welcome back!
2021-02-01
Time to party, at least for me. My goal is to put 1 update a month, soo don't expect too much. I have been busy working full time as a web developer since graduating in 2018. The site last was updated in 2017, crazy. It's been 4 years! I think that's right... I have a math minor, but mental math is NOT my strong suite.
In addition to working on this site, I am working on building my "side business" with hopes that one day I can quit my main job and make money my way.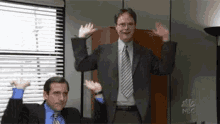 P.s. I love the office, can you tell?